Congratulations Rebecca Bibby for being this month's Member of the Month! You've been selected because we always see you supporting all of our EtsyMCR members on our Etsy Manchester Members Facebook group, and you also regularly attend our monthly socials, so we'd love to thank you for your continued engagement and involvement with our team!
Firstly, please introduce yourself! Where are you from, what are your hobbies? Who IS Gizzys Gifts?! 
My name is Becky and I'm originally from Bristol but I moved to Manchester just over ten years ago. With blue hair… at the minute… I live with our four crazy guinea pigs and fiancé, and love them in that order exactly.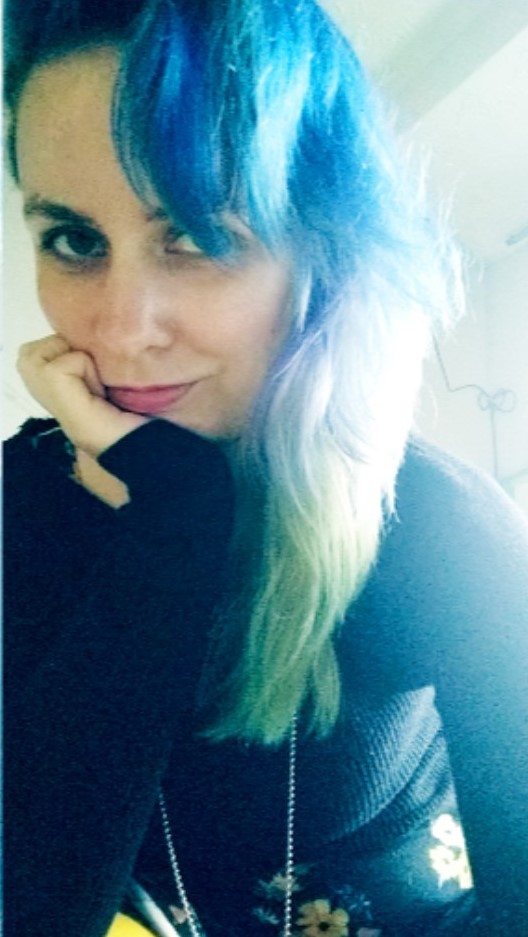 I actually did my degree and masters in Photography; now doing a little bit of that on the side, however mostly using it to photograph the tiny replicas of people's pets I make instead. Which is great to be honest, as I love photographing and capturing all those little details in the world. I work from home out of our spare room, occasionally escaping into the outside world where I love stepping on crunchy leaves and watching the magpies fly around attacking the neighbours' satellite dish!
What is the story or inspiration behind your shop name, Gizzys Gifts?
I started off making miniature guinea pigs and Gizmo was one of our first guinea pigs (Quite a naughty, full of character, guinea pig). We call him Gizzy for short and so the name evolved from there really.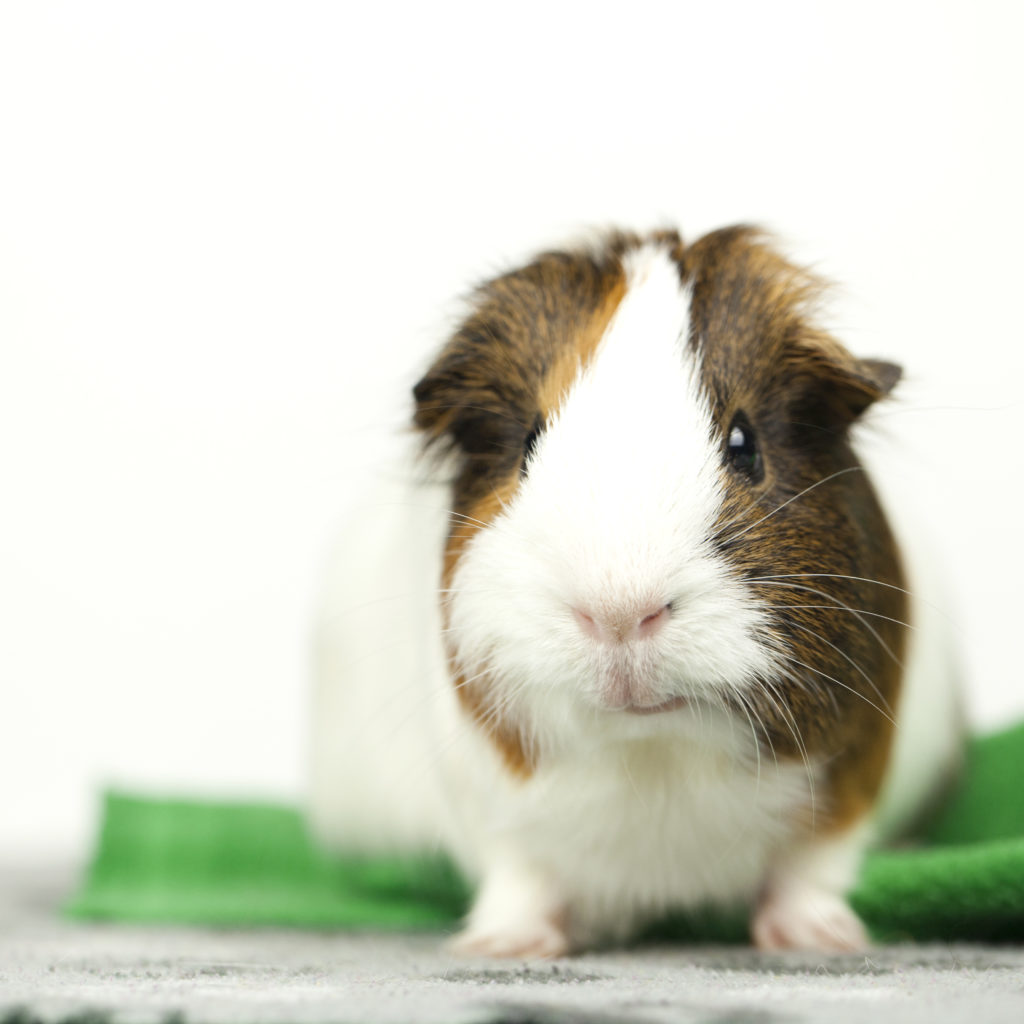 You have a wonderful array of miniature animal ornaments, cute food jewellery, personalised memorial frames, cut paper cards (and much more!) available to purchase on your Etsy shop. Which items are your favourites to make?
I love making custom pieces actually. Getting to create a unique character each time and getting let into people's worlds. Seeing the many different cute faces of their pets and knowing I'm creating something for someone to treasure and permanently remember their furry family member by. Suppose this is also why I like sending the personalised memorial frames. Packaging them up nicely and adding little touches to make them smile during the tough time after losing their pet.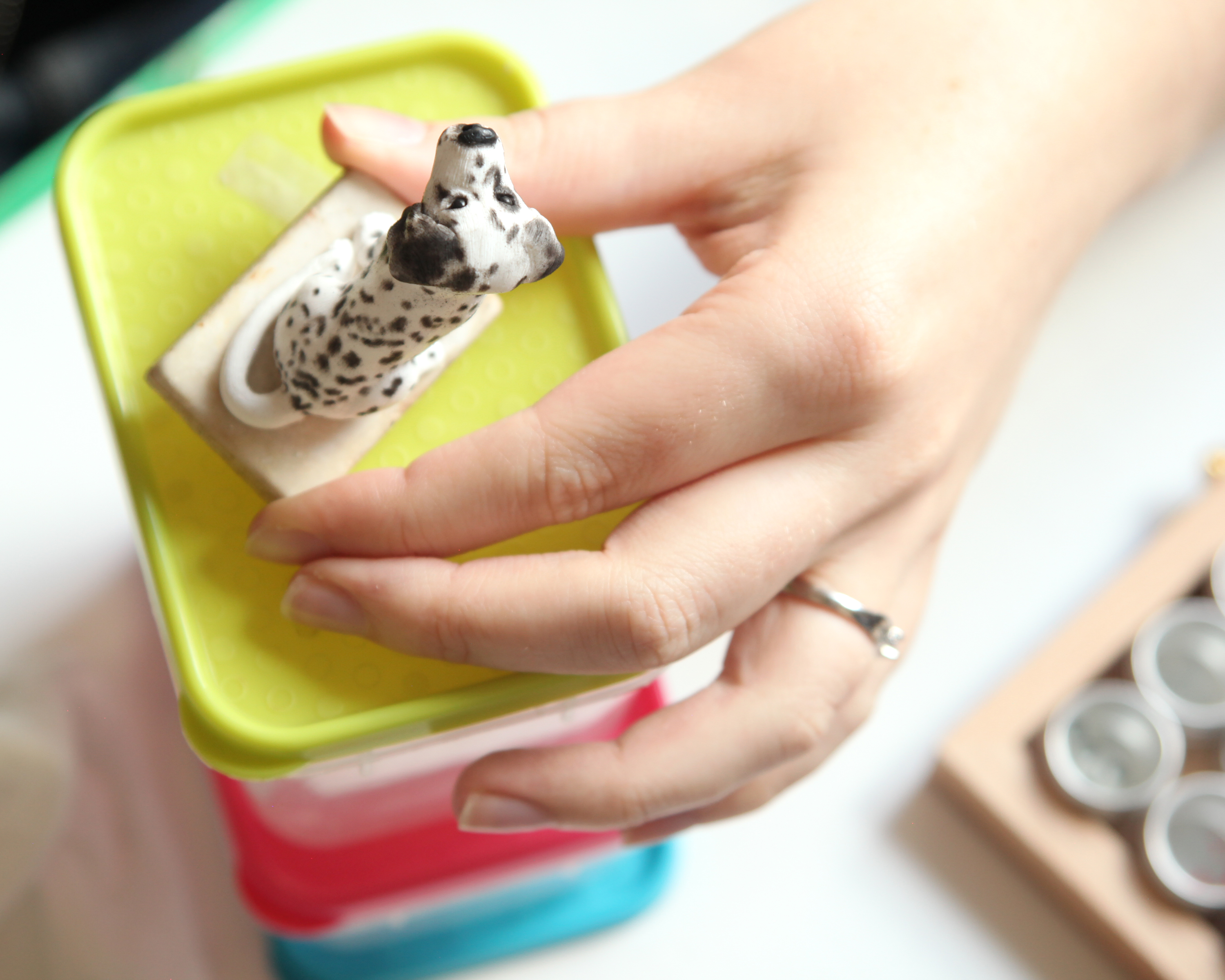 We're amazed at how incredibly lifelike your tiny animal ornaments are! How long does it take you to make one ornament, and do you ever lose your patience trying to perfect all the intricate details?!

It can vary to be honest, from an hour to a few hours for example, depending upon the animal really. And sometimes they need to be put aside for a bit so I can return with fresh eyes. As with everything, things don't always go right. Sometimes I do lose my patience especially as I'm a little bit of a perfectionist with the details, I believe in getting everything right for a customer. As an animal owner myself, I know I'd want everything to be as perfect as possible so I work as hard as I can to get it as accurate as I can. So this can occasionally lead to elements needing to be "reset" and corrected with a squish.
If the National Department of Miniature Animal Ornaments (NDMAO)* decided tomorrow that makers have to choose just ONE animal to make for the rest of their lives (let's hope this doesn't happen!), which animal would you choose, and why? 
Just one?! That's hard. Erm… officially I'd say guinea pigs, because they have such unique funny characters. Each one's personality is so different and it shows in their faces. Also who couldn't love a cute guinea pig, especially with the variety they come in. From mega fluffy crazy hairstyles to totally hairless bar little tufts on their nose. However I'd have to secretly keep making other animals on the side.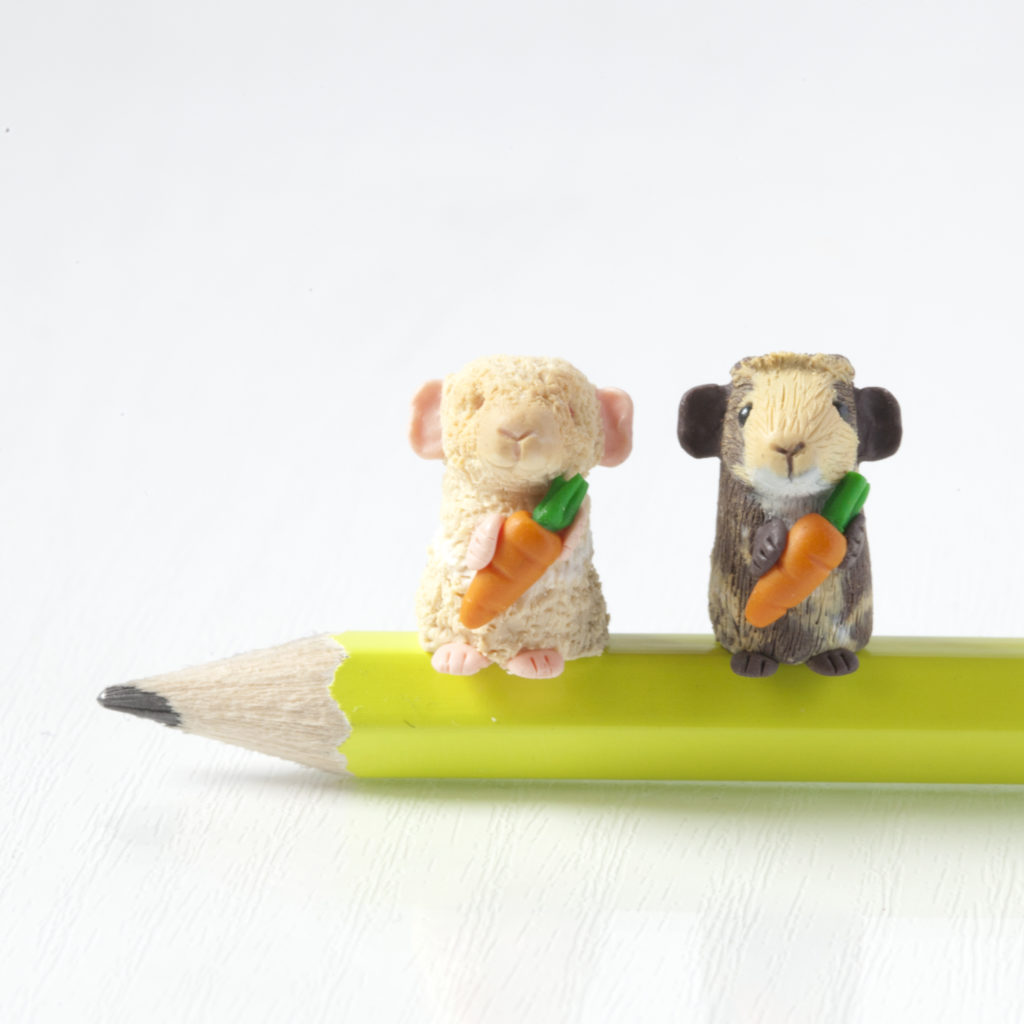 *The NDMAO is a fake organisation that we have invented for entertainment purposes of this article. ☺   
If your animal ornaments could speak, what would they say about you?
I would like to think they'd describe me as a lovely person who cares about getting their little details and features perfect, then sends them off to loving homes where they are adopted by caring and friendly people. They'd probably also want to point out how embarrassing I am dancing and singing terribly around the house when no one's around.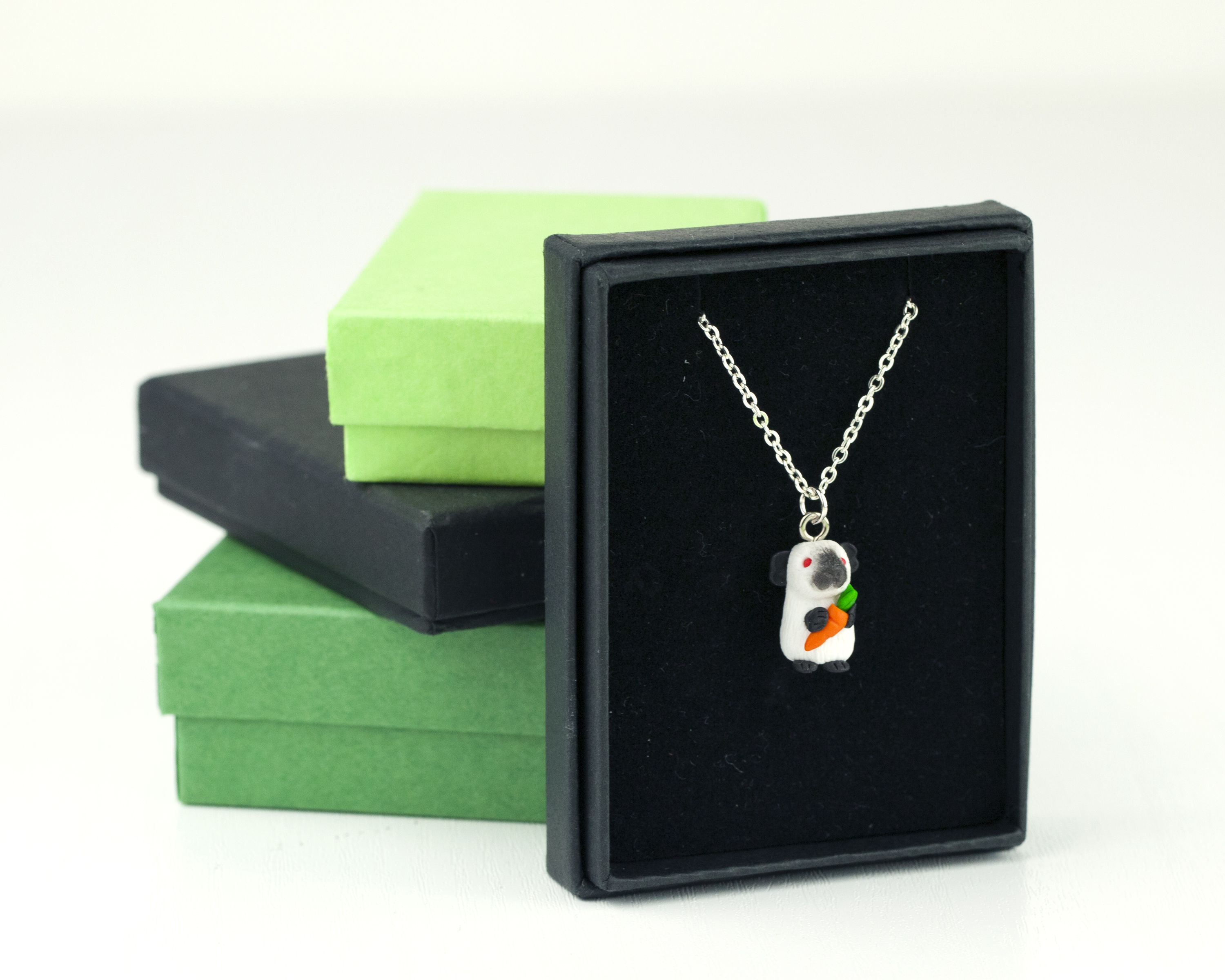 And finally, is there anything happening soon (such as markets, events, giveaways, celebrations, new product launches) that you'd love our readers to know about, and to add to their diaries?
Planning to add new ornament styles later this year, little creatures sat on all fours similar to the dogs I currently do. Coinciding this with some new happy faces, thinking chinchillas, rats, etc. All those unique furries that are missing out on love. Always open to suggestions of any animal people would like to see. So I'd say keep an eye out for those, will probably be a limited number to start with as well as a few custom slots.
Thank you for taking the time to answer our questions, Rebecca. We look forward to seeing more of your adorable miniature animals soon!
Check out Gizzys Gifts on Facebook, Follow Rebecca's work on Instagram and shop for Rebecca's adorable mini ornaments over on Etsy.
Would you like to be our next Member of the Month, and be featured on our website and in our exclusive Team Newsletter? To be in with a chance, all you have to do is become an active EtsyMCR team member, in three easy steps:
2. Head over to Facebook and join our EtsyMCR Members Group.
3. Be ACTIVE! Ask questions, support other team members by answering their questions and joining in with conversations, share news & opportunities, tag @etsymcr on your Facebook, Instagram and Twitter posts, and come along to our monthly Socials! Our next Social is on Thursday 25th July in Manchester, from 6pm. See you there?