This April saw the British Craft Trade Fair set up for its three day event in Harrogate. This prestigious show, now in its 44th year, is a specialist event for artists and makers wishing to showcase their handmade products to a select group of retailers and galleries.
This year a number of EtsyMCR team members exhibited, some for the first time, others as established makers.
After having time to recover from the weekend, Charlotte Verity Jewellery Designer; Catherine (aka Swifty) of Swifty Bell Designs; Sophie Cunningham Illustrator; and Kat Pearson Designs have taken a few moments to reflect on and share some of their experiences and advice with the rest of the team.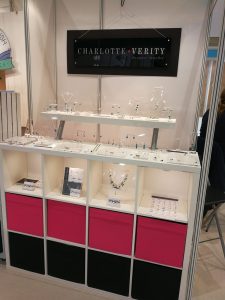 Charlotte, our most experienced exhibitor, told us, "I've done this show for the last 8 years and the last 2 have been particularly quiet. I chose to exhibit at BCTF because it is a high quality show featuring UK made, handmade craft items from lots of different disciplines. The show has a good reputation and it's a good way to meet new galleries and shops. I chose to do it expecting to get a few exhibitions, maybe some new shops, and hopefully a couple of trade orders."
Swifty, who exhibited for the first time in 2017, had graduated to the Post-Newcomers area. "It's been really good for me. Probably my most stressful time ever, especially in the run up!" Her reasons for choosing BCTF included first-hand experience of being told by retailers that they didn't like being approached directly by makers, preferring to choose artists from trade fairs. Taking part in the event also enabled her to talk directly to shops and galleries to find out what they were looking for, and what sort of customers they have.
Both Kat and Sophie were Newcomers this year; both a blessing and a curse if all the advice and comments from experienced exhibitors were to be believed! The Newcomers Area is for first-time trade show exhibitors, who may not necessarily be new businesses, and was made up of a good mix of artists and makers at various stages of their careers.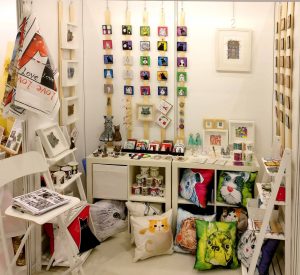 Kat and Sophie found their first Trade Fair experience 'a little disappointing, and an expensive experience', however Kat added that it was "a huge learning opportunity".
Kat and Sophie opted to try BCTF this year to develop the Wholesale side of their businesses, in a hope to cut down on the number of markets they needed to do. Sophie got off to a good start with an order in the very first hour! All Newcomers are warned not to expect sales at the event, but to chase up leads afterwards. One buyer even commented that, "Newcomers is the first area buyers visit and the last place they buy". Not exactly reassuring, but made Sophie's sale even more of a triumph!
Emma Darbyshire, team member and owner of Wilton Street Craft Co., went along for a visit and said, "It was worth visiting if you're thinking of doing the fair, to see if it's a good fit. Lots of the makers were approached and willing to chat freely about their experience and their learning points."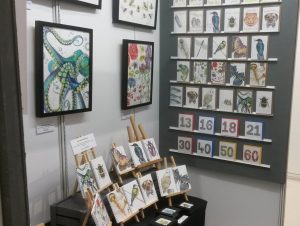 And finally… Would they do it again? "Overall, the show was too quiet, not enough visitors, "said Charlotte, something many other makers agreed with. "Possibly won't be back next year,' said Kat, 'but never say never. If I'm honest I wasn't really ready for the step up to professional level but it was a great place to learn what I need to do next, I met some fantastic people and I would certainly consider going back as a visitor next year."
We asked Sophie, Kat, Charlotte and Swifty for their Top Tips for exhibiting at BCTF and other trade fairs:
Make sure of your pricing, that it is consistent and that it is clearly marked on your price lists.

Have clear, consistent branding on your stand.

If possible, have some lower priced items, as these might encourage initial sales with first-time buyers.

Don't expect to make your money back at the event and do chase up any leads as sales often occur after the event.

Don't be put off by buyers ignoring your stand! They know what they want, and with so many stands they can't afford to get distracted.

Be prepared! However long you think it will take to getall your products, pricing, catalogues etc. sorted, double it ("at least!" says Kat).

Only take your best work, and remember, Less is More. Don't overwhelm your stand. Think carefully about what your key items are and make them the focus.

Take buyers' details and make a note of what they're interested in, so you can personalise any follow-up communication you have with them. And even if they don't stop, many have their names/shops on their badges. There's nothing wrong with making a note of them to research them further, with a view to contacting them in the future.

Plan your stand; they're smaller than you think, and invest in 'S' hooks to hang work, as nothing sticks well to the walls.

Consider applying to put larger work in the Exhibition Area, as this can attract buyers to your stand.
Find out more about British Craft Trade Fair, and how to take part in future shows at www.bctf.co.uk
Thanks to contributors Sophie, Charlotte, Kat, Swifty and Emma for their help writing this article.
SaveSaveSaveSave
SaveSave