Our newest Team Leader, Sally – aka The Lobe Wardrobe – has picked some of her favourite Father's Day cards and gifts made by the EtsyMCR Team.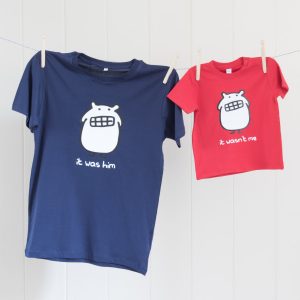 1) First up, something for Dads who just never seem to grow up… introducing the Big Kid Dad! Treat both your little monkey and your big monkey (!) this Father's Day to these matching t-shirts by DadsAndKids – they are hand pressed in Cheshire, and are available in several sizes and colours.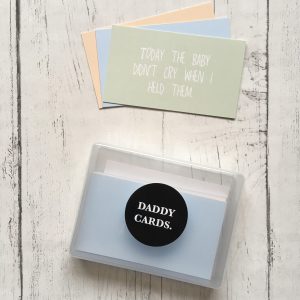 2) Next we have a gift for any New or Soon-to-be Dads; these beautifully simple card packs by IsabellaandUs would make a lovely gift to Dad from Mum, baby or the bump! The pack includes 20 "Daddy" cards, each have messages to remind and reassure new Dads that they're doing a brilliant job.
3) Now we have something for perhaps the most prolific Dad of all…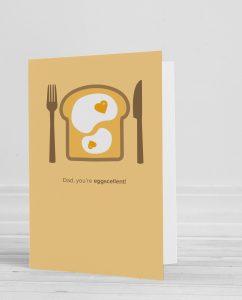 Pun-loving Dad! Using sustainably sourced materials, KatherineCoryDesign offers a variety of pun-tastic greetings cards such as this eggs on toast design – you might find they're toastally perfect for your Dad this Father's Day (hmm… maybe the puns should be left to Katherine!)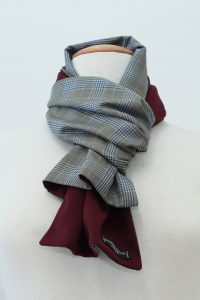 4) If you're looking for something extra special for your Sophisticated Dad, we think these fine wool and silk blend scarves might just do the trick! BronwenSimpson offers a variety of styles in their shop, but this burgundy ponte fabric scarf in particular would make a stunning gift for Father's Day.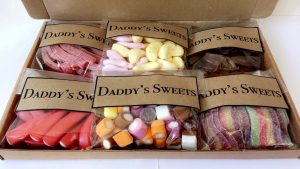 5) If you have a Sweet Tooth Dad (also known as Always Hungry Dad, or Third Helpings Dad), we reckon you can't go wrong with these personalised sweetie hampers! HarlieLoves offers two hamper sizes to best suit your Dad's appetite, and you can add a personalised message to the gift box and individual sweetie labels.  

6) These illustrated cards by sophieheywood would be adored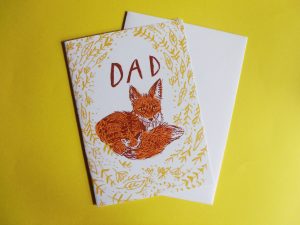 by just about any Dad out there, but particularly loved by any Nature Loving Dads! Blank on the inside, with the beautiful image of a baby fox cuddling into their parent on the front, we think these cards would be perfect for any child to give to their Dad this Father's Day.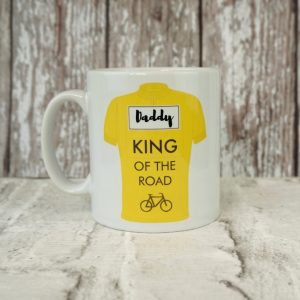 7) Spoil your Sports Mad Dad this Father's Day with a "King of The Road" cycling themed mug! In addition to mugs, TailoredChocolates offer several other cycling themed gifts, and various other sports themes, including rugby and golf. The mugs hold a generous 11oz (ideal to quench the thirst of any particularly dehydrated Sports Mad Dads!) and are dishwasher safe.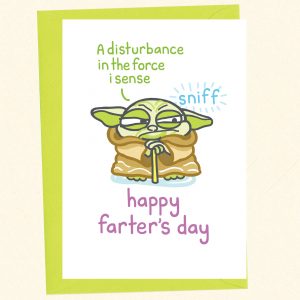 8) Though very similar to Pun-loving Dad, may I introduce a new variety of jokester… Crude-loving Dad! This type of Dad will particularly enjoy these humorous (and sometimes a little bit naughty!) cards by HelenDodsworthDesign – with so many cheeky designs to choose from, you're guaranteed to find one that will make your Dad chuckle on Father's Day.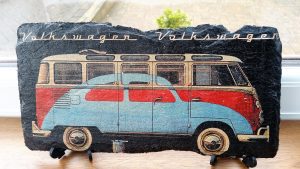 9) The penultimate Dad on our list is Outdoorsy Dad! SimplyImperfected has used the tricky decoupage method to expertly decorate this piece of slate, and we think the campervan theme would make an ideal gift for any Outdoorsy Dads for Father's Day. The slate comes with two stands, so your Dad can display this lovely slate piece pride of place on his window sill, or even in his actual campervan!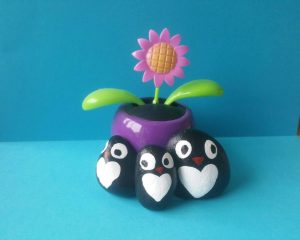 10) And last but certainly not least, an adorable gift for any Family Man Dads… a set of three hand painted penguin pebbles by TheRaspberryCat – perfect for indoor or outdoor decoration in a family home. We think these would make a lovely little gift from any child to their Dad this Father's Day!