Congratulations Lindy, you have been selected as our FIRST EVER Member of the Month! You were chosen because you consistently feature in our monthly "top 10 contributors" stats on our Etsy Manchester Members group on Facebook. Thank you for being an enthusiastic, active member of our team, and we'd like to celebrate by getting to know you better!
Firstly, please introduce yourself! Where are you from? What are your hobbies? Who IS Black Dog Pottery?!
Hello and thank you for choosing me to be the first ever Etsy Manchester Member of the Month! I'm Lindy but you already knew that. I'm originally from the US – met a Brit and followed him over. Luckily I'm a dual national (Portuguese) so I could come over without any issues ☺
My hobbies are… sunset walks on the beach and pina coladas and puppy videos. Just kidding – a glass of red every time.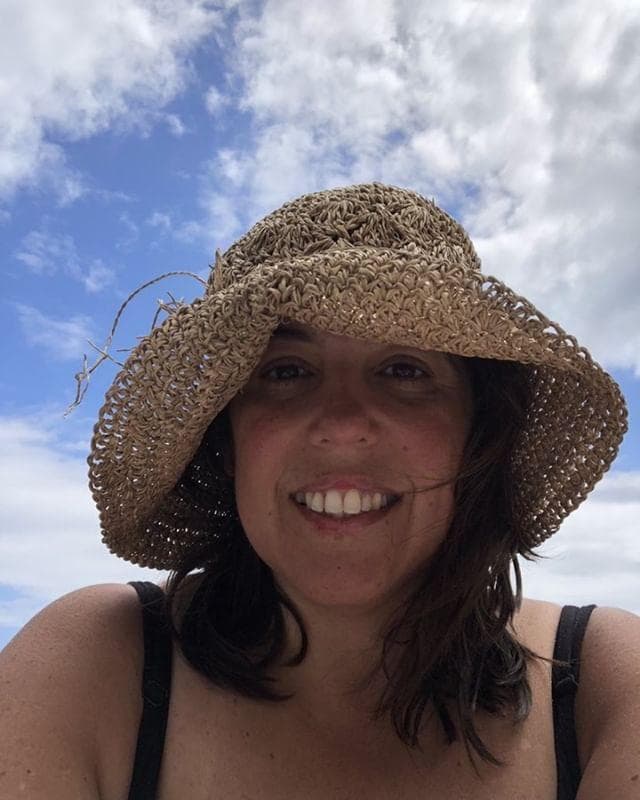 I'm pretty much a self taught potter. I took hand building classes for about a year and set up a home studio where I would experiment and try things I didn't have time for in the classes. Then my studio slowly developed as I acquired more and more things. I'm based in South Manchester and my studio is in our spare bedroom. One day I'm have a large sunny shed in the bottom of the garden but for now I am super grateful for that I have.
I love everything about clay and it really is my happy place. I've got big big plans for this year (talking business plans and appointments with bank managers- eek!), I won't go into it here because I don't want to jinx anything but I hope my dream will be something I can share and involve some of the amazing EtsyMCR makers I've met.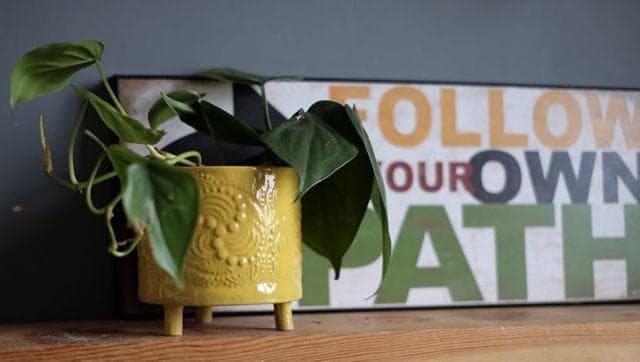 We absolutely love your bold, colourful pottery style! What, if anything, does your pottery style say about your personality?
My aim is to make people smile. I'm not sure what that says about my personality – maybe that I just want people to be happy. I love it when I'm at a market and someone walks by stops and starts to laugh when they see my funny face pieces – goal achieved! Next goal is to get every one of them to buy what makes them smile! (LOL).
What is your favourite part of the pottery-making process?
My favourite thing to make are my embossed pieces and it's a tricky process – too wet and everything sticks and rips too dry and it cracks. When I get that sweet spot and the embossing comes out perfect I do a little dance. I actually love everything about pottery – from wedging to making to glazing.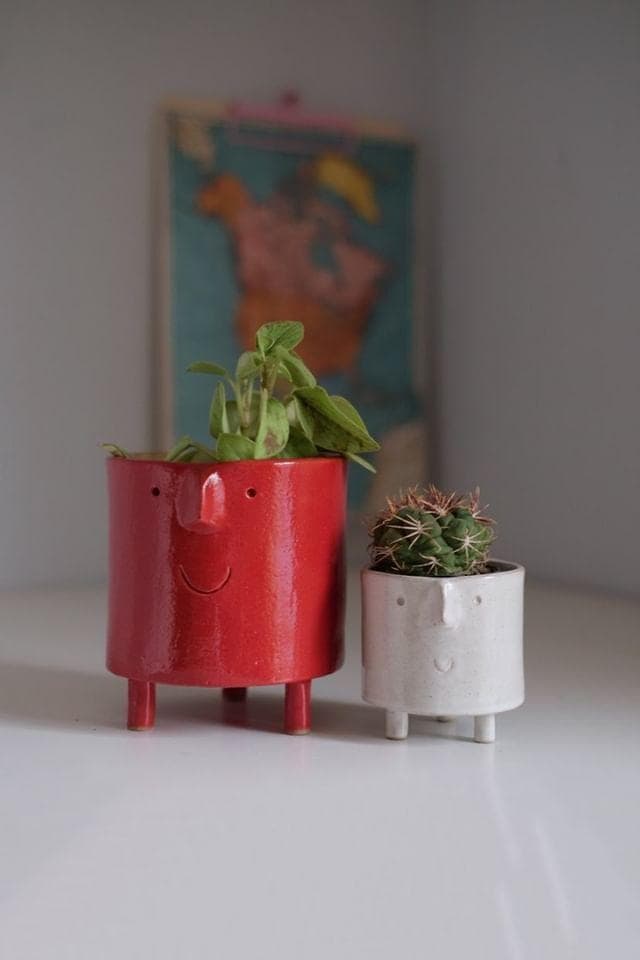 … And what is your least favourite part?
Eeerm – cleaning up. The super fine silica dust is very dangerous and it gets in your lungs and stays there, so I get a bit freaked out about that. We clean everything always but it still freaks me out.
If, for some crazy reason, you couldn't make pottery… but HAD to make something else to sell on an Etsy shop… what would it be?

I would love to learn stained glass. I don't know if anyone would want to buy stained glass but it's something I've always wanted to try.
You have lots of beautiful planters and vases in your product range. What is your favourite plant or flower?
My favourite is begonia maculata – it's a gorgeous spotty plant, green with white spots on one side and red on the back side.
Do you have any top tips for someone who wants to start out in the pottery world? Any courses or people you'd recommend them checking out?
Just go for it- find a community studio somewhere and have a go. I would say 7 Spot at Islington Mill and Clay Studio in Hulme are amazing friendly people and have a range of classes you can try, as well as membership options.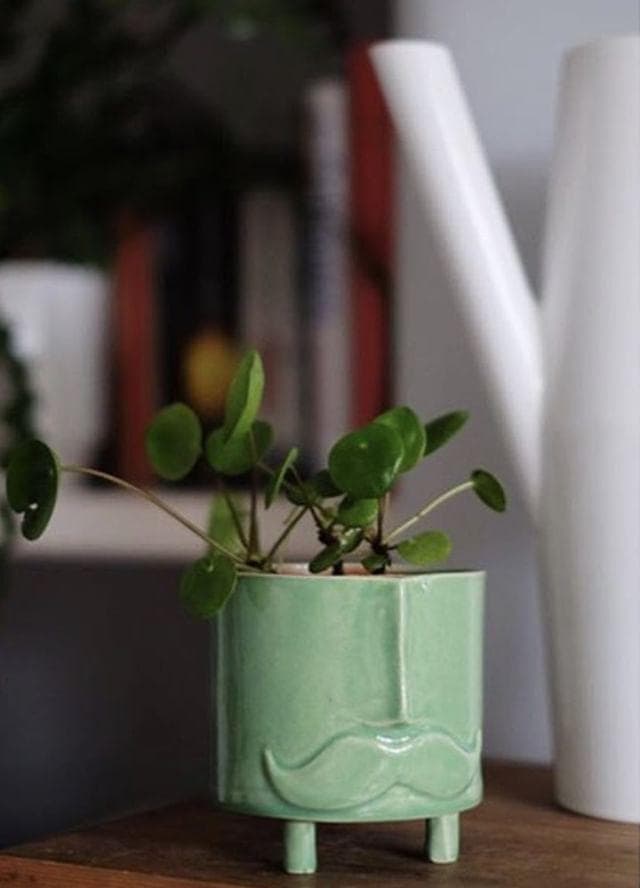 And finally, is there anything happening soon (such as markets, events, giveaways, celebrations, new product launches) that you'd love our readers to know about, and to add to their diaries?
I'm all over the place as I try to do a market at least 3 times a month – check on Instagram if you want to know where I am. I'm focusing on vases so watch this space for new shapes and designs – I'm still a big fan of embossing and stamping clay so that will feature heavily. I'm also a big big fan of my lava range – I have a glaze that bubbles and runs and drips in awesome amazing ways. More of those are on the way too.
Thank you for taking the time to answer our questions, Lindy. We look forward to seeing more of your beautiful pottery creations soon!
Check out Black Dog Pottery on Facebook, Follow Lindy's work on Instagram and shop for Black Dog Pottery ceramics over on Etsy.
Would you like to be our next Member of the Month, and be featured on our website and in our exclusive Team Newsletter? To be in with a chance, all you have to do is become an active EtsyMCR team member, in three easy steps:
2. Head over to Facebook and join our EtsyMCR Members Group.
3. Be ACTIVE! Ask questions, support other team members by answering their questions and joining in with conversations, share news & opportunities, tag @etsymcr on your Facebook, Instagram and Twitter posts, and come along to our monthly Socials! Our next Social is on Thursday 30th May in Manchester, from 6pm. See you there?