Congratulations Aaron Cranfield for being our Member of the Month! You've been selected because you're always an enthusiastic, active member on our Etsy Manchester Members Facebook group, and we also love seeing your smiley face at our monthly socials. Thank you for your continued engagement and involvement with our team!
Firstly, please introduce yourself! Where are you from, what are your hobbies? Who is Aaron Cranfield, of Cranfields Creations?!
My name is Aaron. I am 29 and run my little environmentally friendly and retro inspired business, Cranfields Creations, out of my flat in sunny Salford. I am the creator, maker, mover and shaker of my pop-culture cards and prints.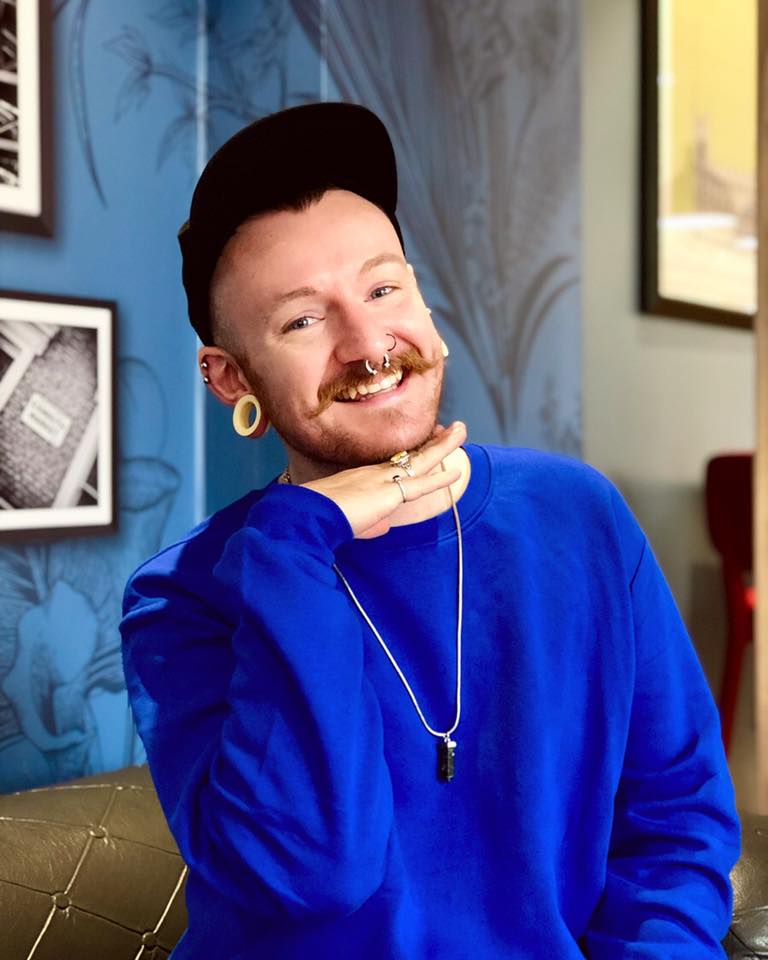 Alongside Etsy, I also work full-time in communications, so I guess you could say I am a part-time illustrator with a full-time passion. Running a small business and working full-time can be a struggle, so I must stay organised and on-top of my game. As an Aries, I have a strong personality and I am always determined to make things succeed.
What is your story so far, as an artist? And where would you like to see your artistic career going in the future?
I've always been creative and a maker of things, so when I had the opportunity to go to University and study Fine Art, I jumped at the chance. It was a life changer and the experience really opened my skillset to new and exciting things. Once I graduated, I worked in a few jobs, but never really had an outlet for my creative side, so I started Cranfields Creations to help express myself and get to know other creative people like me. I discovered Etsy Manchester a few months later: everyone has been incredibly supportive. It's been great to see and help others going through their own Etsy journeys.
Since Cranfields Creations opened in January 2018, my "day job" has taken a significant and positive change… along with my drawing style. I'm lucky that my passion and daily routine are now so intrinsically linked. Over the next few years I would love to see my little business expand so I can move to reduce my work hours or even go self-employed full-time – what a dream!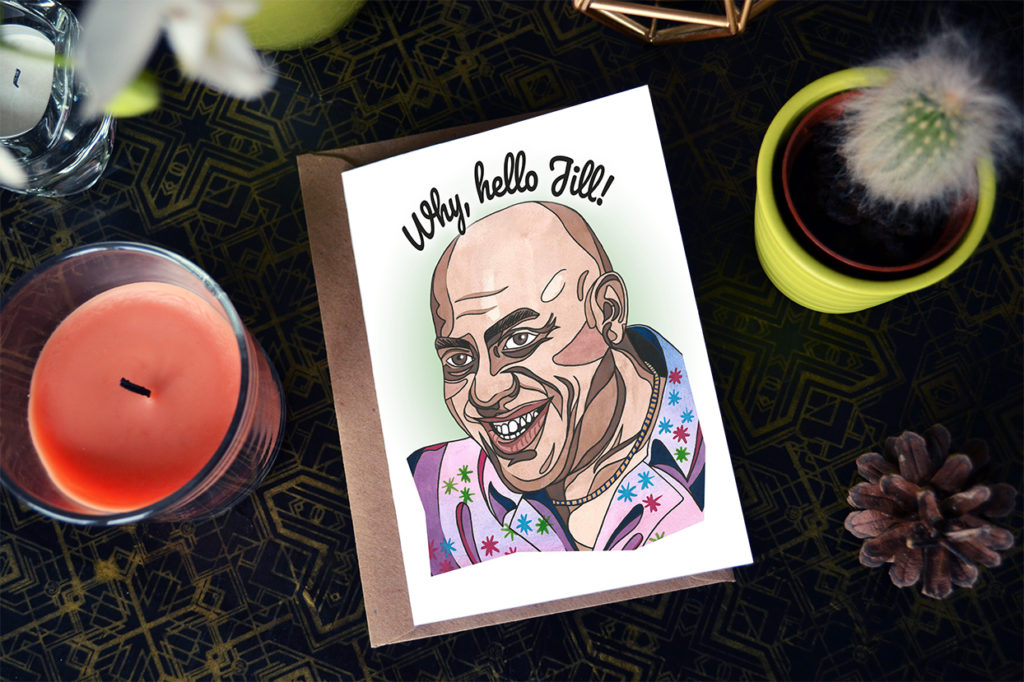 We see loads of familiar faces (in the form of prints and greetings cards) available to purchase on your Etsy shop. Which famous people or characters have been your favourites to paint, and why?
I am a huge pop-culture fan, even 'nostalgic' pop-culture, and love to illustrate my favourite cult icons from it. I find it all so relatable for certain types of moods, relationships or occasions – it's a reflection of us as humans so fits us all in some way! One fine example is my Ainsley Harriott illustration: his personality is just so resonant and iconic of the 90s that anyone can see its appeal. When I draw and think of my quotes, I try to capture that character in. I am currently working on a Britney Spears 'circa 2007 meltdown' design, which I think everyone can relate to!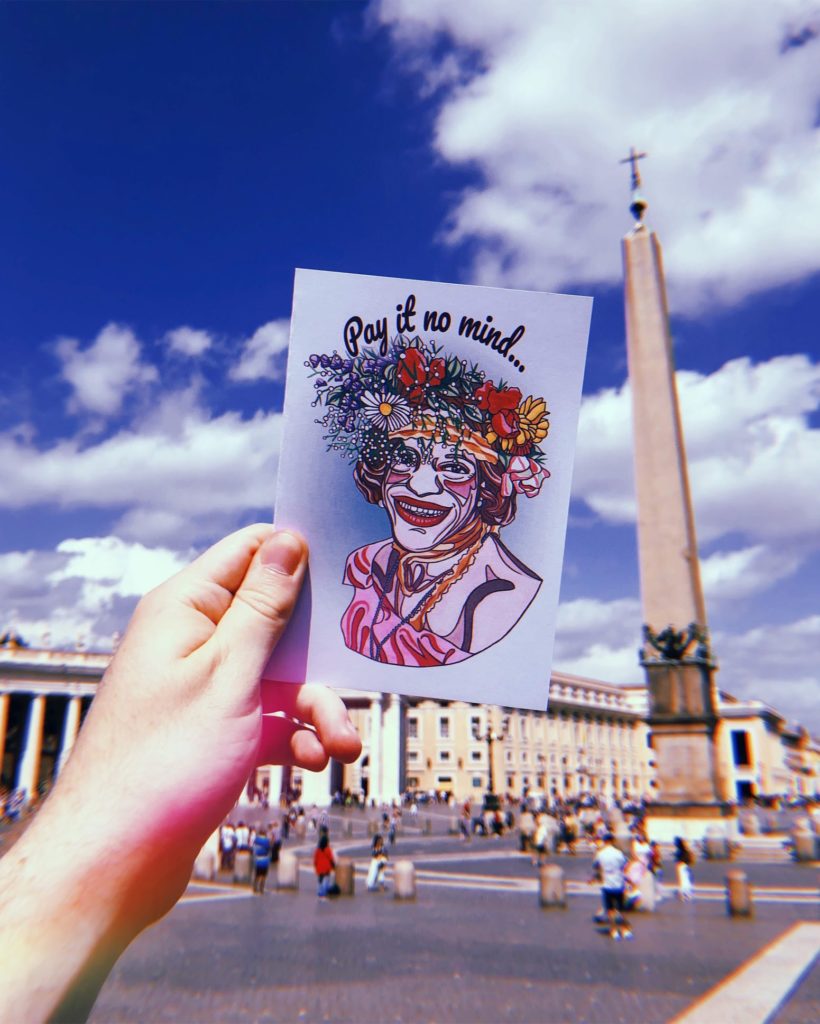 One of my favourite illustrations is of Marsha P Johnson. She is one of the biggest icons of the gay rights movement and a prominent figure of the 1969 Stonewall riots. As a member of the LGBTQ+ community, I like to do my bit by paying homage to those who have led the way for the community by illustrating to educate and inspire others.
We get the feeling that you may enjoy watching a movie every now and then (all your incredibly accurate character artworks give that away a little bit!). Is it fair to say you're a bit of a film buff? And if you had to play a role in a movie, which role would you play and why? 
Now this is a cracking question! Unfortunately, I am one of those people who has a top 50 movie list, so yes, I would classify myself as a film buff! I don't think I could whittle a role to play to just one, however, a few that come to mind are Sarah Connor (Linda Hamilton – Terminator), Ellen Ripley (Sigourney Weaver – Alien) and any of the cast of First Wives Club (Bette Midler, Goldie Hawn and Diane Keaton). I just admire the strong female spirit these characters possess and their bravery to rise to challenges, plus "You Don't Own Me" is an absolute banger…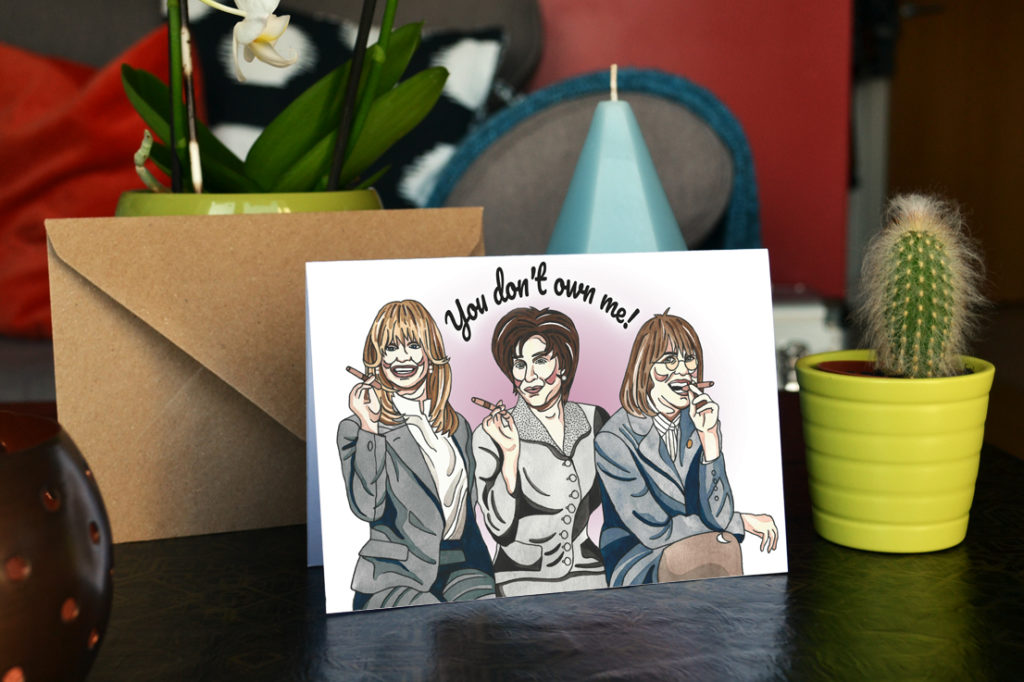 If your artworks could speak…what would they say about you?
They would say I am too much of a perfectionist, and I need to stop worrying about the detail. I used to spend a lot longer on a piece than I currently do, so I am getting better!
And finally, is there anything happening soon (such as markets, events, giveaways, celebrations, new product launches) that you'd love our readers to know about, and to add to their diaries?
I wouldn't want to give too much away, but I have a new Christmas line coming out soon – full of more of my favourite cult Christmas villains and heroes. Plus, the new Cranfields Creations website will be launching shortly so you'll be able to experience the full Aaron personality! You can keep up-to-date with me on my social media channels and as a bonus, get a behind the scenes glimpse of my way of working.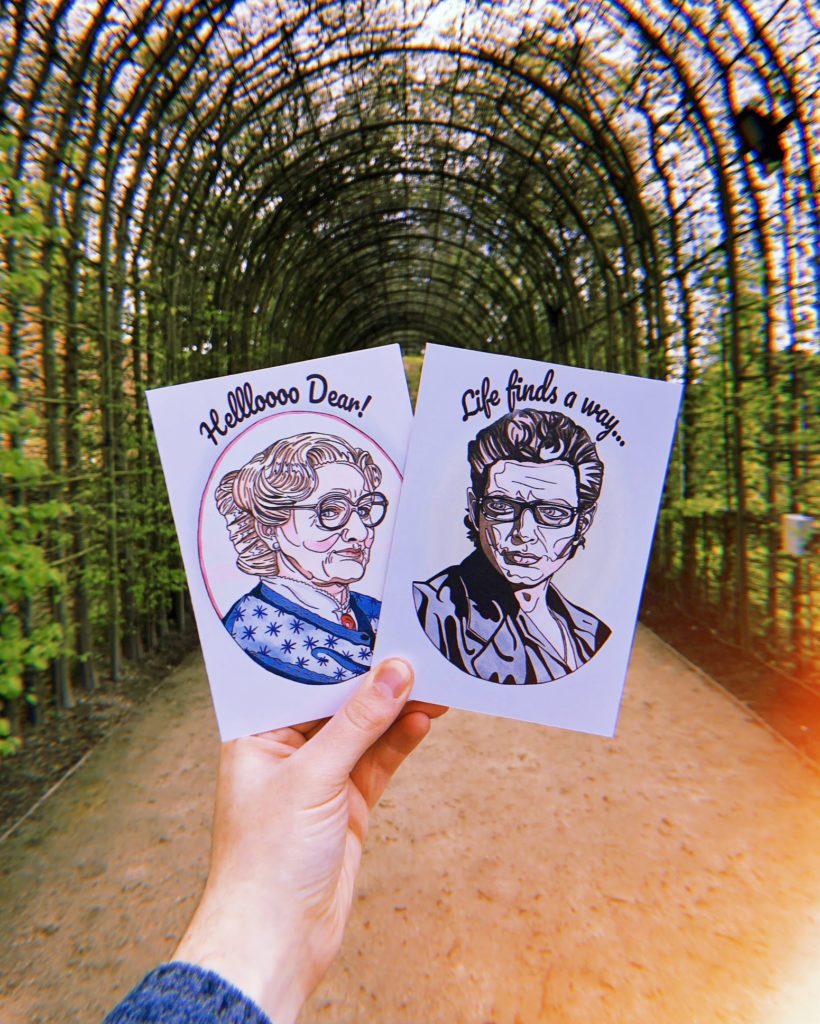 Check out Cranfields Creations on Facebook, follow Aaron's work on Instagram and shop his personalised portraits and pop culture artworks over on Etsy.
Would you like to be our next Member of the Month, and be featured on our website and in our exclusive Team Newsletter? To be in with a chance, all you have to do is become an active EtsyMCR team member, in three easy steps:
2. Head over to Facebook and join our EtsyMCR Members Group.
3. Be ACTIVE! Ask questions, support other team members by answering their questions and joining in with conversations, share news & opportunities, tag @etsymcr on your Facebook, Instagram and Twitter posts, and come along to our monthly Socials!